IntaChange Enterprise Change Management
Innovative, Change Management software for complete change control in an automated, simple to use system.
ITIL® v3 Template, Ready to Use Out of the Box!
ITIL® change management Template Ready for Immediate Use
Scale to any size of organization, project or company
Ready for you to adapt to any complexity of project
Everything you need is included:
Suggested role definitions
Permissions already defined
Best practice business rules and processes
Email actions and events
Suggested fields for the RFC's ITIL® recommends
All ready for you to use or customize to your unique circumstances giving you the best foundation for your own change management system you could wish for.
ITIL® is a registered trade mark of the Cabinet Office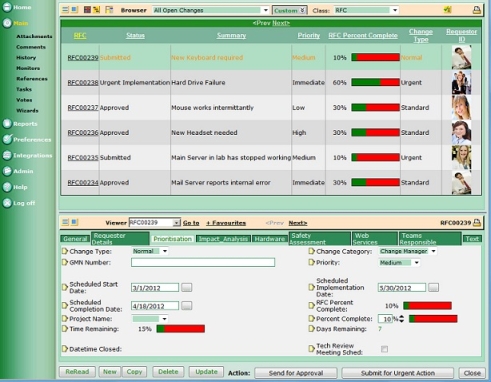 ICE Main Screen
Transform change management with our ready to use software
Customise the user-centric home page to show a simple overview of requests for change. Pie and line charts show key metrics, statistics and trends at a glance.
Powerful yet s

imple to deploy and use

Controls complex enterprise wide processes yet flexible enough for even the simplest project

Change Management software you can rely on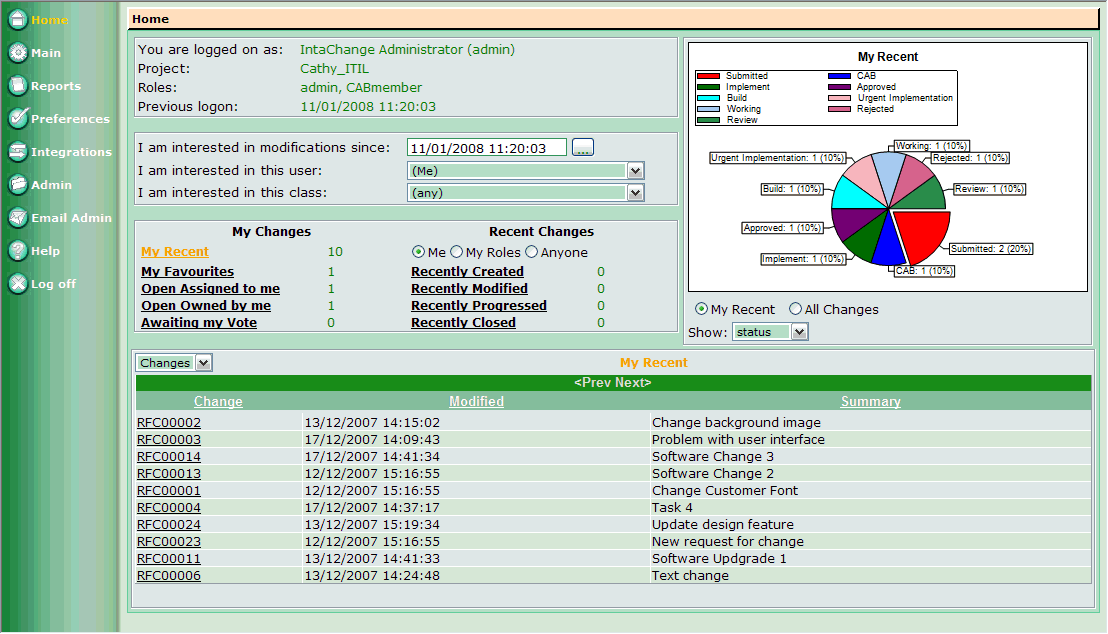 User Home Page
Our powerful software is easy to use and deploy, yet it is deceptively simple. Focus on the benefits:
automate, track and document change
implement effective project controls
meet critical success factors
meet tight schedules
avoid potential delays
prevent higher costs
---
Use across the entire organisation
Change management information is essential to everyone, Use Intachange and put the information they need at their fingertips
Faster for change control boards, all they need to make their decision is there, ready and waiting.

Change management has never been as simple or as effective.

Easy to use for everyone – easy to use wizards make processes easy to follow and reduces errors throughout every aspect of change.

The entire organisation benefits.

IntaChange Enterprise saves time, increasing control and providing detailed information on all changes, in a simple and concise format at every stage. It really is Change Management at its easiest. Focus on the benefits:

Create, administrate, check and update the changes you need to make
Automatically track and proactively inform everyone that is involved, every step of the way.
Access the information immediately, produce detailed reports and add comments, at the touch of a button.
Automated features streamline processes and provide essential information precisely when you need it.
Simple, effective and budget conscious change management software, that has been designed with non-technical people in mind
IntaChange Enterprise directly reduces the time people take to do what they have to do.
---
Slash time wasted in meetings
Automate routine tasks, let IntaChange do the hard work for you
Work online, from anywhere, submit changes via email

View critical information 24/7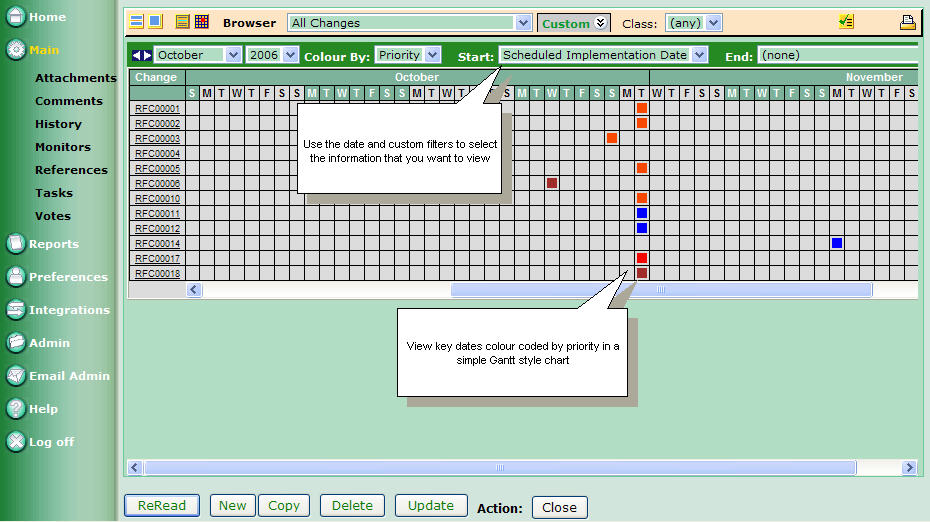 Main Page Gantt view
High levels of automation mean that IntaChange Enterprise takes the hard work out of change management. It eliminates the need for endless meetings by letting everyone contribute to the change process, from anywhere in the world. Focus on the benefits:
Submit, track and assign requests for change, online, with automatic alerts sent to all the relevant people.
Approve, reject and comment on changes, all without leaving your desk.
Discuss, review, and re-assign at any stage, from any internet PC.
One click enables you swap between a Calendar, Gantt chart and Table view making work scheduling and workflow much easier
All views can be filtered to show the data you need, Dates by priority? no problem. Changes by Severity, certainly and so much more
---
Speed up your business process
Configure your workflow, as many as you like as often as you wish
Design and edit workflows and life-cycles, easy to use

editor

Implement processes, no matter how complex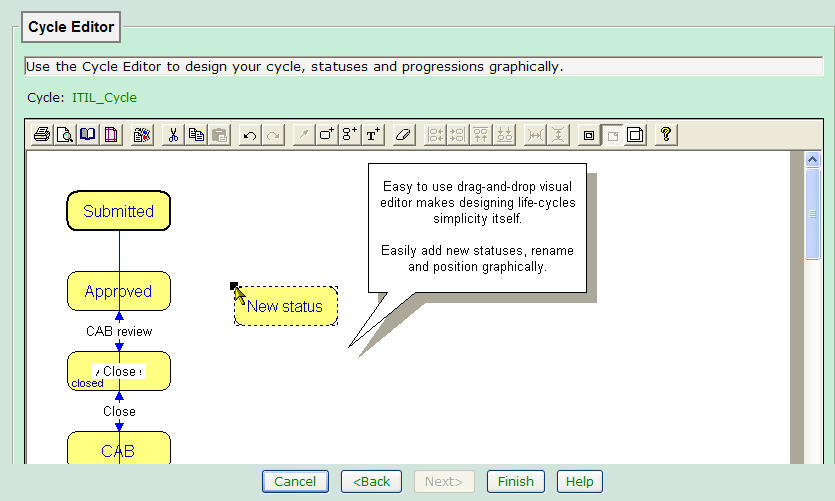 Graphical life cycle editor
Take the hard work out of Change process design. Focus on the benefits:
Simple graphical life-cycle editor to visually design workflows and life-cycles with drag-and-drop editing of statuses, cycles and progressions.
Right click to set business rules for the different change types that you might have.
Export or print your change process diagrams for consultation with your team or to include in local procedures and reports.
---
Improve efficiency
Eliminate paper-based systems, can be used on any project of any size, anywhere

Keep secure, accurate records, audit trail is automatic, comprehensive and complete. Pass your Audits with no worry or concern

Work faster and more efficiently, Do what you need to do when you need to do it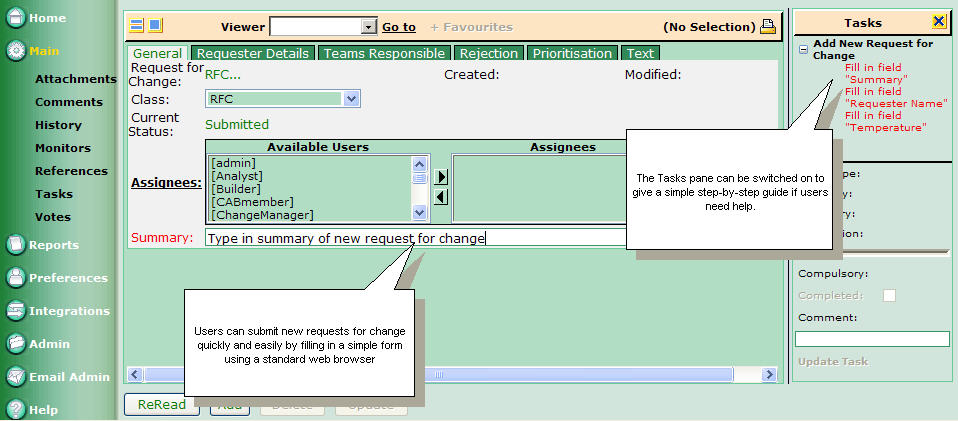 IntaChange Enterprise simplifies the whole change management process, automating routine tasks and freeing up staff for more important work. Focus on the benefits:
Secure up-to-date records, confident that the whole change process is being properly tracked and documented.
See summary and detailed information clearly presented on a single screen. Swap between tabular, calendar and time line views of the data at a single click.
Add, progress, review and update changes, in a few simple steps, using locally defined change wizards ensuring that even new members of the team can do what you need them to do with the minimum of training and delay.
New change requests can be raised in seconds. Use either a locally defined wizard or the simple online web form.
Cut down on CCB/CAB rejections by letting IntaChange help you ensure that changes are sent to change control boards in a standard, concise format, guaranteed to include all the information they need to authorise and progress the change.
Use Automatic notification and individually specified 'monitors' to keep everyone informed with what they need to know, as soon as they need to know it.
Set up locally defined 'step-by-step guides' to help new users through the workflow cycle. Let them know at every stage what to do, when to do it and why and how it should be done.
IntaChange Enterprise will take your change management to the next level and beyond. Used to manage change in safety critical environments, finiancial institutions and across industry and manufacturing.
IntaChange Enterprise will help you gain a competitive edge by responding faster to a constantly changing work environment and Increase your ROI by removing bottlenecks, simplifying, automating and better managing your change process.
---
Reduce risk, reduce mistakes
Audit trail with a full history, include not only what you have done but also why you have done it.

Analyse change, see what changes are due, ahead of schedule

Eliminate resource conflicts, re-allocate resources to changes that need it

Attach full documentation, screenshots and other files as appropriate, to each change.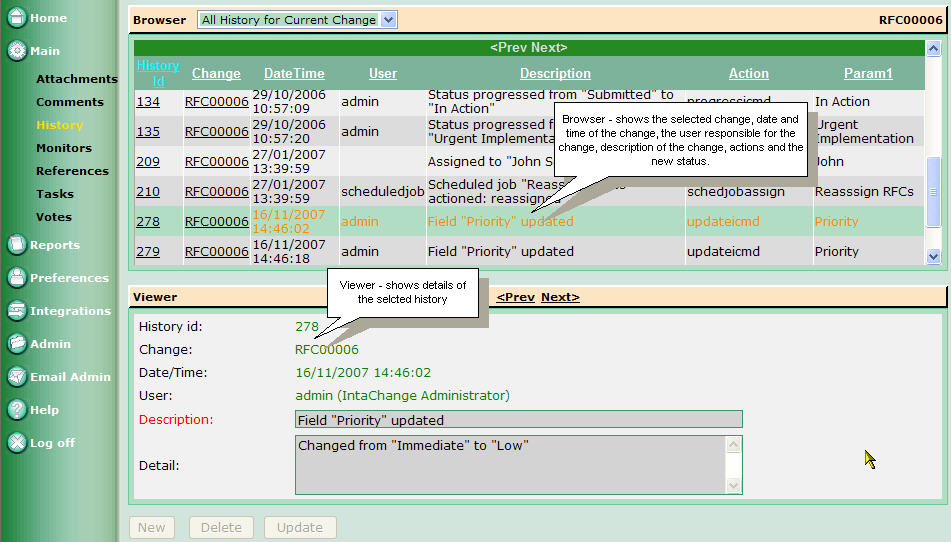 History
Reduce the risk of implementing unauthorized changes. IntaChange Enterprise records and implements change in a structured way, cataloging change requests throughout your organization. Focus on the benefits:
Automatically record dates, times, names, history and critical information of who did what, when and why, for every single change.
Audit trail the entire change process – add comments and gather votes and assess the impact before key decisions are made.
With IntaChange Enterprise you can attach documents and files of any format to each request for change. Attaching documentation gives you secure, accurate records and makes storage and retrieval much easier.
Paperwork and paper wastage are dramatically reduced by electronically generating and storing records, making your change management system highly efficient and extremely effective.
---
Improve communication
Involve the team at every stage of the change process, set up monitors and triggers to inform you of a change event as soon as it happens

Vote and comment on all change, record your reasons for your decisions and see what other comments have ever been made on this change.

Work collaboratively, sharing thoughts and ideas, discuss and volunteer your views without complicating the process.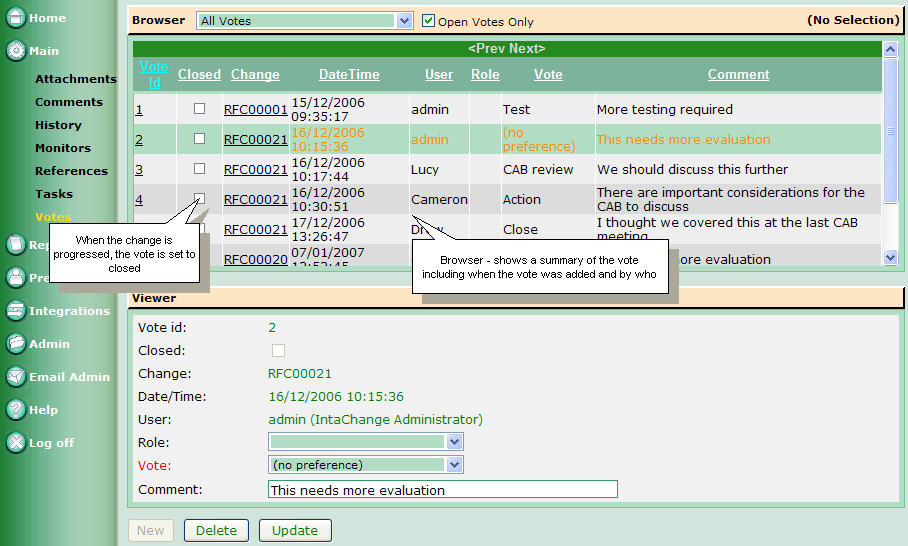 Vote to Authorize
Change Control Board (CAB) members love IntaChange Enterprise because it makes their life easier.
They don't have time to waste in meetings or on routine tasks.
With Intachange Enterprise they can raise, schedule and prioritize change; analyse risk and business impact; communicate change and ensure consultation.
CAB members are automatically notified of new change requiring their attention and assigning, reviewing and approving changes follows a simple, automated process.
IntaChange Enterprise keeps everyone informed with automatic email alerts, triggers and notifications at every stage.
A central record for every request for change shows summary and detailed information that can be viewed by by those who have permission.
Individuals can vote and comment on how the request for change should be progressed and whether they agree or disagree with it, enabling full consultation, traceability and accountability. This means that teams work more collaboratively, so projects are managed more efficiently and processes are followed correctly.
---
Integrate with Microsoft Outlook
Raise change requests directly from Outlook

Inform your Outlook contacts

Vote by email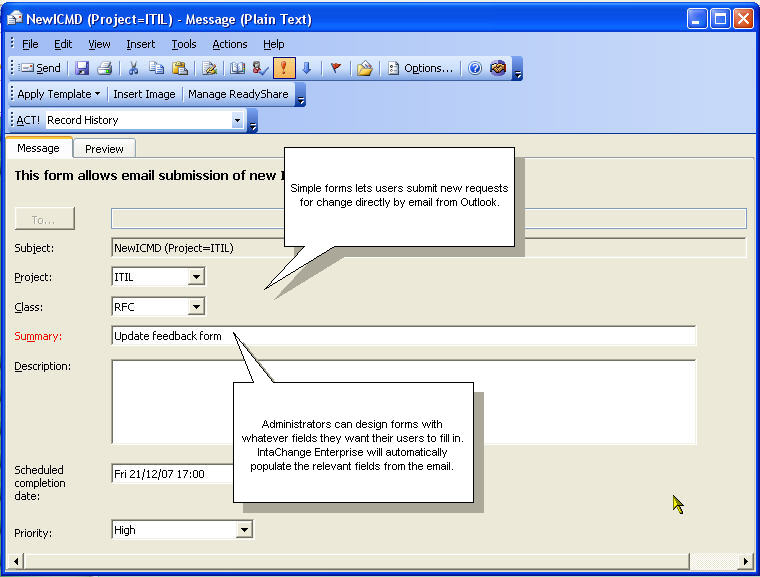 Submit a Change via Email
Focus on the benefits:
You don't even have to log into IntaChange Enterprise to raise a new request for change. Just email details of the change request from Outlook, and IntaChange Enterprise automatically creates a new record.
You can also import all your Exchange/Outlook contacts directly into IntaChange Enterprise and look up your contact details from within it.
Users can also email votes on aspects of change requests, directly from Outlook.
---
Remind your Outlook users
Create Outlook Tasks

Remind users what to do

Remind users when to do it
Change Management Outlook Task Integration
Focus on the benefits:
Use IntaChange Enterprise to automatically create tasks for your Outlook users to remind them what they need to do and when they need to do it.
They don't have to log in to IntaChange Enterprise to find information, so there's no excuse for missing deadlines!
---
Save time and money on set-up and administration
Online, web-based system

No installation on individual PCs

Configure to your processes from easy to use templates

Use your own terminology to make it easier for yourself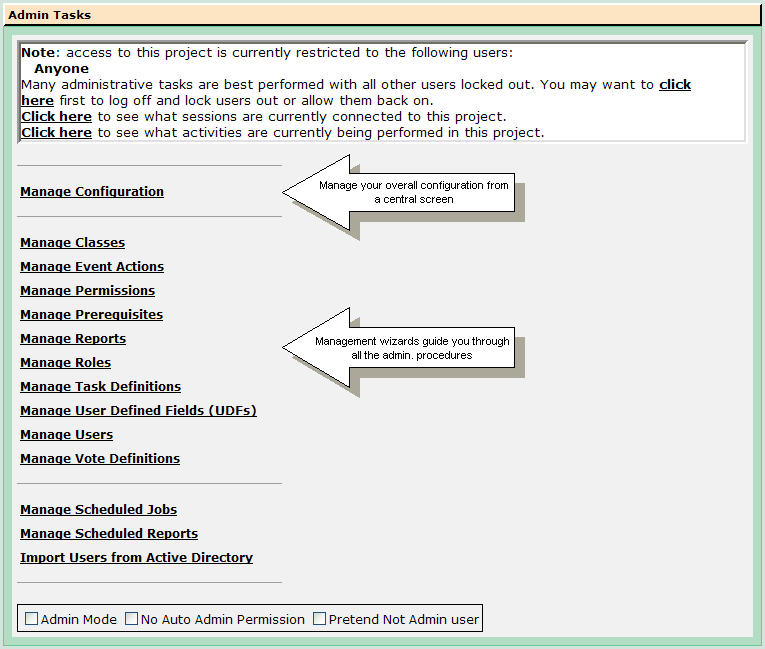 Change management administration
IntaChange Enterprise is highly configurable with almost limitless scope for expansion and modification.

Focus on the benefits:
IntaChange Enterprise is installed on a single server and uses an industry standard Microsoft SQL Server database.
Installation, maintenance, administration and upgrading can all be done from a central point, saving you time and money
You can adapt it to your workflow, your terminology and your user preferences and set up automated routing, escalation, assignments and email alerts.
It comes ready to use with built in approval controls and mechanisms and automated audit trails which you can customise if you need to.
There's no need to install on individual workstations, if people have access to a web-browser, they can create and update changes from anywhere in the world
---
Sarbanes-Oxley compliant
Answer your auditors questions




– Who changed what?




– When did they do it?

What did they change?

and most importantly; Why did they change it?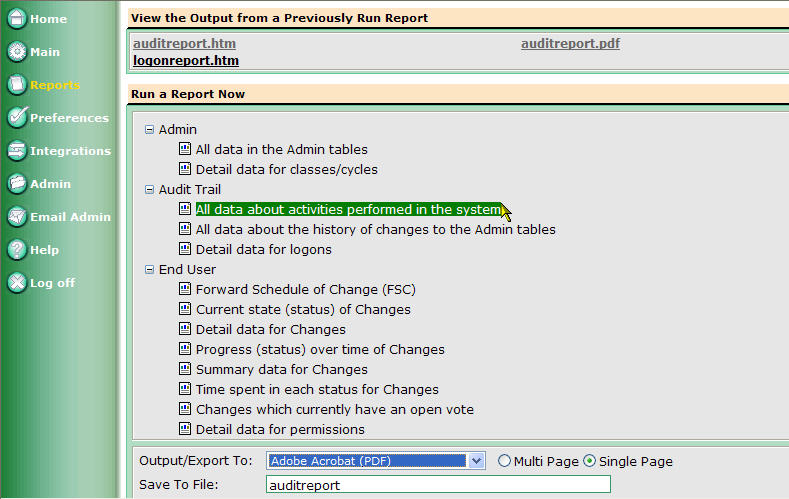 Change management administration
Sarbanes-Oxley (SOX) states that corporate executives are accountable for the quality and processes of IT systems that produce financial reports. Executives face fines or prison for failing to comply.
Focus on the benefits:
IntaChange Enterprise gives a clear snapshot view of your internal IT infrastructure and its dependencies, to both internal and third party auditors.
It answers those tricky questions that auditors ask. Who changed what, when did they change it and why? By keeping a secure accurate record of all changes, and implementing automated, mandatory controls, it reduces the risk of unauthorised access and data tampering.
And the beauty of it is, IntaChange Enterprise is simplicity itself. It lets you control your complex business processes by administering all changes from a central point, reducing mistakes and avoiding duplication.
It ensures that accurate, up-to-date records are kept, giving you the peace of mind that your data is secure.
---
Subversion Integration
Supported Versions
Subversion library 1.8.0.
If using Windows VisualSVN Server, version 2.6.0.
TortoiseSVN client 1.8.0.
AnkhSVN client 2.5.x.
Earlier versions may still work, but have not been tested.

A new "File Revisions" Feature has been added to IntaChange Enterprise enabling you to associate multiple versions of your files with the Change records you create in IntaChange and of course, vice versa.
When a user "checks in"/"commits" new versions of files from a Subversion client, (depending on the facilities of the Subversion client) it can query IntaChange for (suitable) changes that are to be associated with the files, offers these to you for selection, and records: (a) Against the Subversion file version(s) which changes were selected. (b) Against the IntaChange Change record(s) which Subversion file version(s) were committed/changed and (c) Optionally, progresses the IntaChange change record to the next status in their life cycle/workflow.
When a user views a change record in IntaChange, IntaChange can access Subversion to fetch the actual file content of the version(s) committed/changed against that change record to enable you to see precisely what edits were performed. Similarly, (depending on the facilities of the Subversion client) when a user views a version in Subversion he can see which IntaChange change records were associated against it, and is able to simply click on it to access the change record in IntaChange.
| | |
| --- | --- |
| | Personal attention. Excellent technical support, "the best customer service" |